About Us
FEMA is the international OEM parts business center of the excellent machining tools shops and professional production factories in Taiwan and China. Our team includes the shop owners, experienced engineers, and professional experts with MBA and PhD. FEMA could provide OEM parts Total Solution Support from development to production with better quality, competitive cost, and professional service than any other single production factory or trading company.
 
Our production facilities are qualified for major international quality standards such as ISO-9000 for general Industry, ISO/TS-16949 for Automotive Industry and ISO-13485 for Medical Industry. PPAP/SPC is available for mass production when required. For some important and critical parts, FEMA can perform special lab tests or on site inspection. Customers will be free of worry and risk for those parts they get from FEMA.

FEMA OEM parts service are more suitable for None Standard Parts that need flexible to integrate different production processes with very good quality requirement. These parts can be made by different manufacturing process like machining (milling, turning), casting( investment casting, die casting, gravity casting, sand casting), stamping, forging, extrusion, injection and following heat treatment, surface treatment( painting, coating, plating, conversion, anodizing )...etc. Those parts covering material like ferrous metal (iron, steel, alloy steel); non-ferrous metal (copper, zinc, aluminum, magnesium, titanium); non-metal material (thermoplastic, thermosetting plastic, rubber, silicon, carbon fiber).

FEMA OEM parts Total Solution Support allow your design team focus on innovation product development. Let FEMA be your in-house production engineering departments covering all your production needs from Asia. Just send us your prints or samples with your requirements, material and quantity, You will see how we could support you.

More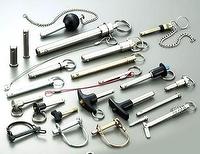 Various types of pin are avaiable like detent pin, ball lock pin, hook pin, jump pin, plunger pin, aligment pin, drop nose pin, single or double-acting pin.Different sizes in inch or metric; Different material like carbon steel, alloy steel and stainless steel; Different surface requirements like z
More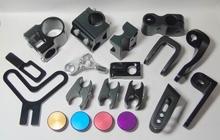 Various machining parts including turning parts or milling parts from carbon steels, stainless steel, aluminum, titanium, various alloy for different industrial need.Cat.: precision parts, machining, CNC machine parts, metal parts, turned parts, stainless steel, brasss, hardware, OEM parts, CNC p
More
New Products